How One Law Graduate Reached Her Big Law Job in Space Law
Washington DC-based Howard Law School focuses on diversity and social issues – Here the Law Schools website focuses on one graduate who has found work with a Big Law firm. Her story –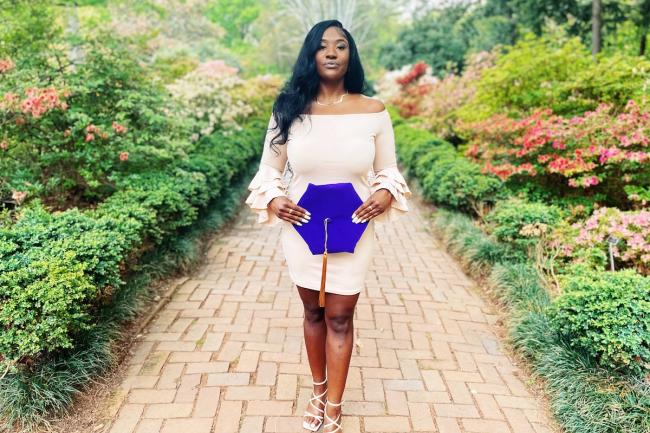 Brittany Bailer – Kansas native and first-generation Kenyan-American Adisa Omido is graduating Howard University School of Law having founded Howard's Space Law Society, the first organization of its kind at an HBCU. Following graduation, Omido will join corporate law firm Skadden, Arps, Slate, Meagher & Flom LLP in Washington, D.C. She sat down with Howard's Office of University Communications to speak about her journey as a Howard student and plans for the future.
Why did you come to Howard, and what area of law were you initially interested in?
Howard University was the only school that I applied to. It was pretty much Howard or nothing for me. I moved to Chicago from Oklahoma in 2016 and actually moved there with the hope that I would go to a law school in Chicago; but while I was there, I realized that not choosing an HBCU for my undergrad experience was something that I really truly regretted. So, when I started to look at which HBCU's offered the best law program, Howard rose to the top, not only because of the legacy of the school, but also because it's in D.C., a place where there's just endless opportunity.
As someone who is very social justice minded, I thought that I would do public interest. Right now, I'm going into tax, which was not something that was on my radar at all, but taxes are the building blocks of our society. I fell in love with it unexpectedly and with the professor Alice Thomas. She became my mentor and has been someone that has pushed me in this area. For me, being a Black woman going into Big Law, she's been able to show me that even though it's an area of law where there are so few Black people in general and even fewer Black women, I belong in every single one of those rooms and I have something to offer. My hope is that, in the future, as I'm learning more about taxes and the tax code, that I will be able to really press in and engage young minds on economic justice issues. That's what really excites me.
What was it like holding the position of editor-in-chief of the Howard Human & Civil Rights Law Review?
Being on you the Human & Civil Rights Law Review was a deeply enriching experience. I fell in love with the way that the events were able to push our community to think about human and civil rights issues. Our publication you know was able to accomplish more this year than ever before, and that's really because of the path that has been laid before us. Our annual C. Clyde Ferguson Symposium called "Intersectionality in the New Age: Crafting an Anti-Discrimination Agenda" was the highest attended event in our publication's history, and, in addition to the five articles that are written by visionary scholars from across the country, we were able to publish more student notes in a single volume than ever before. I highlight this to give my team their flowers for all the hard work that they were able to do, but also to highlight that Howard law has an outlet for students to be able to hone the skills needed to do the work of legal scholarship and that we have a platform to engage the legal community at large on some of the most pressing human rights issues.
You also founded the Space Law Society at Howard. Where did the inspiration for that endeavor come from?
I tend to gravitate toward or things that aren't in the forefront. I've always loved space, but I honestly had no idea that space law was even a thing coming into law school. Over the course of my second Summer in law school, I had a few conversations with my friend Diana, the vice president of the Space Law Society, about issues pertaining to space law, and I quickly fell in love. Society is going to be relying on space more and more in the coming years, especially as the industry becomes more profitable, so it's extremely important that Black and indigenous people of color and social engineers are at the table when the rules and regulations are beginning to take shape. This is an area that is very much in the building stage, and if we are not at the table, then we're going to be left out of the conversation completely. The more that I've interacted with people within this industry, they're looking at Howard because of the brilliant minds we have to offer and because the industry realizes that they need to be hiring diverse candidates. Washington is where all of the major players are, so it's I think it's extremely important for us as a university to take advantage of that. I'm very excited to see the Space Law Society grow more as they continue to partner with people in the industry that want to see us thrive.
Tell me about how you're feeling going into graduation.
It really doesn't feel real. I have moments where I have to remind myself, it's truly a time to celebrate. I've done all the to do lists, now is really just a time to take it in. It's surreal, but I am so proud of myself, I'm proud of my classmates. Everybody is posting all their pictures, so it's just fun to see everybody celebrating themselves and recognizing this huge accomplishment that we've been able to make in one of the most challenging times that we've experienced as a society.
How has Howard prepared you for success post-graduation?
I came into law school thinking I was adaptable and can meet any challenge before me. Being at Howard grew that ability in me even more. I'm an even more adaptable person; I'm someone that can rise to any challenge, and so I'm extremely thankful that that Howard was able to push me in that regard. I have a foundational confidence in who I am and everything that I can accomplish, and Howard showed me the limitless possibilities that lie ahead. I hope to be someone that continues to think outside the box and can really challenge the way that our society solves problems by offering innovative solutions.
First published: Howard Law School